Now Hiring: Customer Service Associates and Pharmacy Technicians. Stop by the pharmacy and apply today!
NEW PATIENTS PLEASE CALL 256-229-2446
Important Announcement!
This has been a hard decision for me. At this time, there is a widespread shortage of Ozempic, Trulicity, Mounjaro and Wegovy but that's not what is driving the decision not to stock the medications. It is because selling the medication is hurting my business.
So, as of today we will not be stocking or ordering Ozempic, Trulicity, Mounjaro and/or Wegovy. Any prescriptions with remaining refills can be transferred to a stocked pharmacy of your choice.
My apologies for the inconvenience but it's either this or we chance closing our doors.
Sign Up For Our Newsletter
Stay up to speed with our latest promotions, special deals, and announcements by signing up for the free Joe's Pharmacy newsletter.
A Letter From The Pharmacy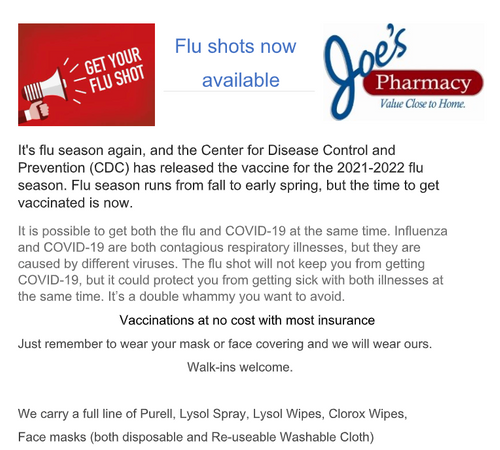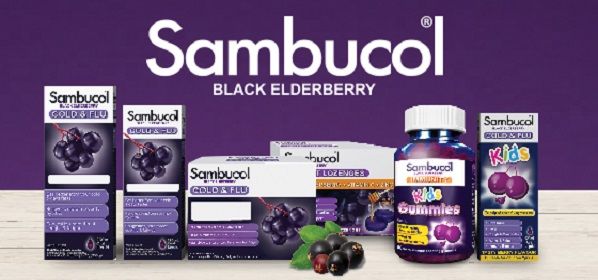 Immune System Support
Sambucol is a great tasting food supplement packed with black elderberries. Black elderberries also contains Vitamin C and Zinc, which are well known for their ability to support the immune system. Sambucol is made from black elderberries which have twice the natural antioxidant capacity of blueberries and more than 50% the overall antioxidant capability of cranberries. Antioxidants strengthen the immune system by helping neutralize the harmful effect of free radicals.
A valuable addition for cough and cold season.
Joe's Pharmacy Mission Statement
Our value is measured in you, the customer, our neighbor. We are committed to providing fast service, affordable prices, and expertise second to none. We are value close to home.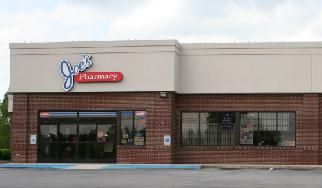 About Joe's Pharmacy
Joe's Pharmacy opened its doors on May 9th, 2006. We strive to provide the best in customer service and community involvement. The pharmacy has sponsored numerous little league teams as well as being a partner in education with Creekside Elementary School. With fast, convenient and personalized care and a tie to the Harvest community, Joe's Pharmacy IS your local neighborhood pharmacy!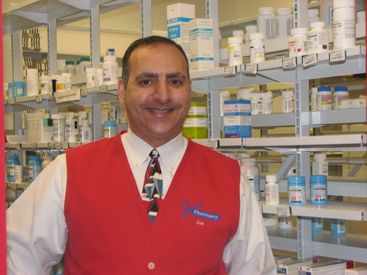 Meet Your Pharmacist
Joe Shunnarah, RPh
Graduated from Samford University
Serving the communities of Harvest and all surrounding areas for more than 15 years
Prides himself in convenient and friendly customer service
Thought of the Day
"The same boiling water that softens the potato hardens the egg. It's what you're made of, not the circumstances."

Reminders
Set reminders to take your medications.

Refill On-The-Go
Refill your medications 24/7 without logging in.

User Profiles
Safely store and manage your list of prescriptions.

Delivery Options
Request a refill and delivery with a single click.